Kushal Gadhia
Specialist in Endodontics, Periodontics, Prosthodontics & Restorative Dentistry
BDS (Bris.) 2005, MSc Conservative Dentistry, MFDS (RCS Eng.), FDS (RCS Eng.)
GDC No. 85673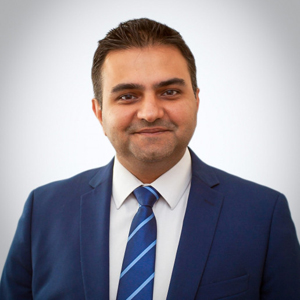 Mr Gadhia is a Consultant and Honorary Lecturer in Restorative Dentistry at the Eastman Dental Hospital and a Specialist in Periodontics, Prosthodontics, Endodontics and Restorative Dentistry
He qualified as a dentist from the University of Bristol in 2005. He enhanced his skills and experience working in a broad range of clinical settings to include dental practices, Oral and Maxillofacial Surgery, Restorative Dentistry and Paediatric dentistry, during which he was awarded his Membership of the Faculty of Dental Surgery.
He was appointed as a Specialist Registrar and Honorary Lecturer in Restorative Dentistry at the Eastman Dental Hospital in 2009. He has a particularly keen interest in treatment planning of the failing dentition, managing complex restorative cases and in Implant Dentistry.
Since graduating, Mr Gadhia has won over 13 national and international awards for his commitment to dentistry. He is the Chair of the Young Practitioners Group for British Society of Prosthodontics (BSSPD) and has held various positions within National dental societies including the British Society of Periodontology (BSP), British Society of Prosthodontics (BSSPD) and Specialist Registrar in Restorative Dentistry Group (SRRDG).
He has organised various national and international study days and conferences, as well as being actively engaged in lecturing, teaching and research. He has published in over 20 peer-reviewed journals.
In his spare time, he has a passion for music, plays various musical instruments and enjoys travelling.
Registered with: General Dental Council
(Reg. 85673)